1. About You
Please state your
1.1 First Name / Age / Location:
A: Marcus / 32 / Canberra
1.2 Usual Playtimes:
A: 7pm - midnight
1.3 Do you know anyone in SC? (Online or in Real Life)
A: No
1.4 Are you applying to SC to Raid/PvP or Socialize? Or a combination? Please specify your intentions and also your goals in WoW as a whole
A: Raid
1.5 Any other information you feel comfortable sharing, the more we know about you the more it helps us with our decision! (optional)
A: Work as IT network admin during the day. Wife is night shift nurse. She works at night when I play games. So no wife aggro.
Was an officer in the Ascension guild for a few years. Have lead many raids, although I prefer not to lead any at the moment.
2. About Your Characters
2.1 List your character(s) Name / Class / Race / Level / Armory Link:
(Please try to stay logged out in your PvE gear)
A: Presiding / Holy Paladin / Human / 80 /
http://www.wowarmory.com/character-shee ... =Presiding
Sorcerress / Shadow Priest / Human / 80 /
http://www.wowarmory.com/character-shee ... Sorcerress
Willing to trial on either character. Both fairly geared. Let me know which char you would want me to trial on.
2.2 What guilds have you been in? And why have you left or intend on leaving them?
A: The Ascension - past 3 years. Leaving because I need an environment change. They currently have a bit of guild dramas between players and i don't want to be involved anymore.
2.3 Are you the original owner of your account?
A: Yes. Not a soul knows my login password. Not even my wife.
3. Raiding
If you have no intentions of ever doing any serious raiding, feel free to skip this section.
3.1 Our raids usually begin at 7:30pm AEST and run up to midnight. Place an asterix next to those days you can make.
Wednesday* yes
Thursday* yes
Sunday* yes
Monday* yes
3.2 What raid experience did you have in classic WoW
A: Started wow 1 month before TBC came out. Was still levelling. I've done all dungeons since then though.
3.3 What raid experience did you have in TBC?
A: Everything except Sunwell during TBC. Killed Terror Gorefiend pre nerf. Killed Illidan pre wotlk.
3.4 What raid experience do you have in WotLK?
A: Paladin is 10m Kingslayer. 9/12 in 25m. Priest is 10/12 10m and 10/12 25m with some hard modes done.
3.5 We use Ventrillo for communication on raids, it is required that all players atleast be able to listen in on vent. Will this be a problem for you?
A: I have ventrilo and a mic
3.6 What is your internet connection? (speed and download limit – important because dogging hard raids because your "capped" is a piss weak excuse)
A: 8mbit / 1mbit. Unlimited download, have never ever been capped.
3.7 If possible please post a link to a picture of your ui with raid frames. (This is more important for healers)
A: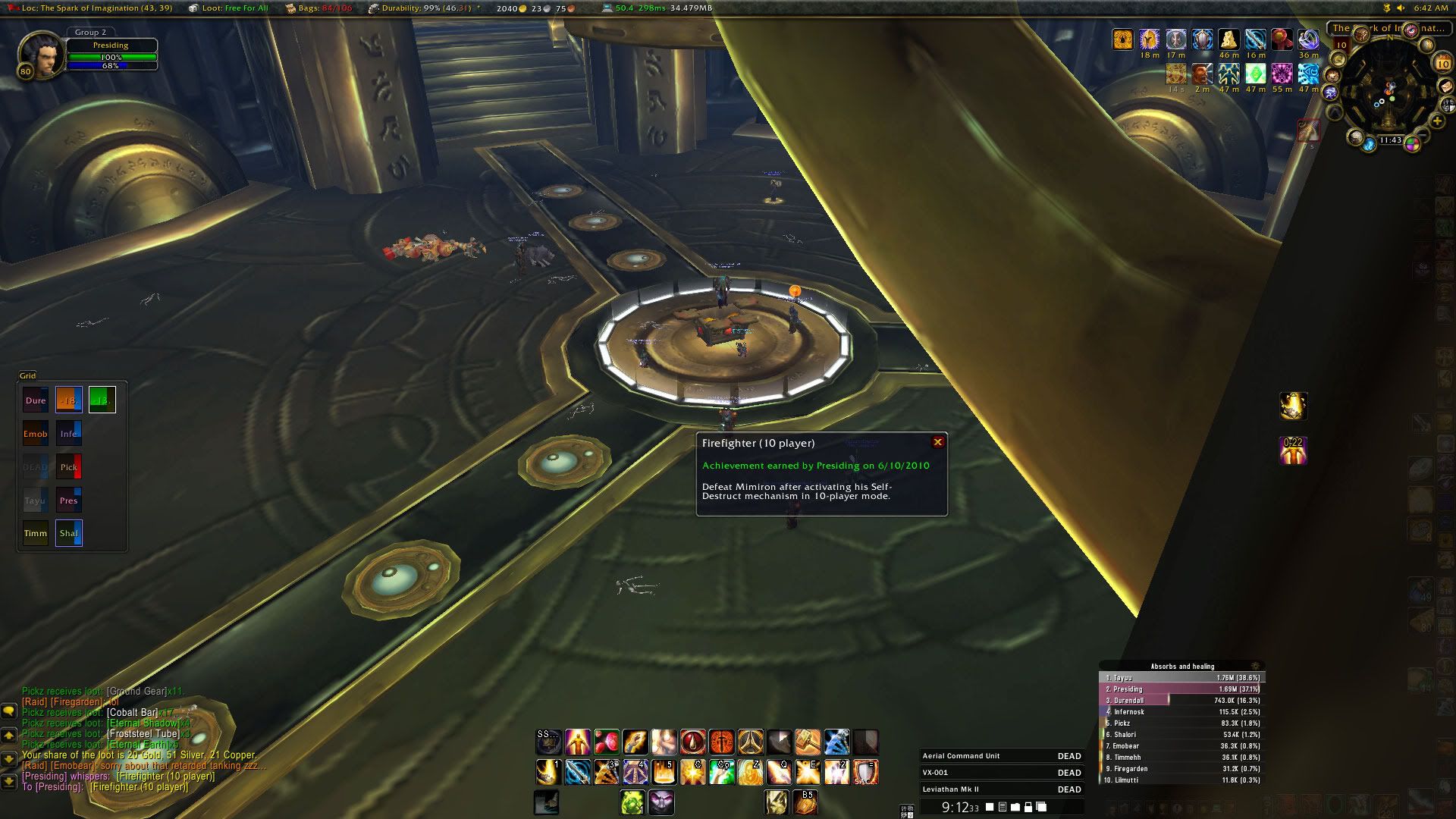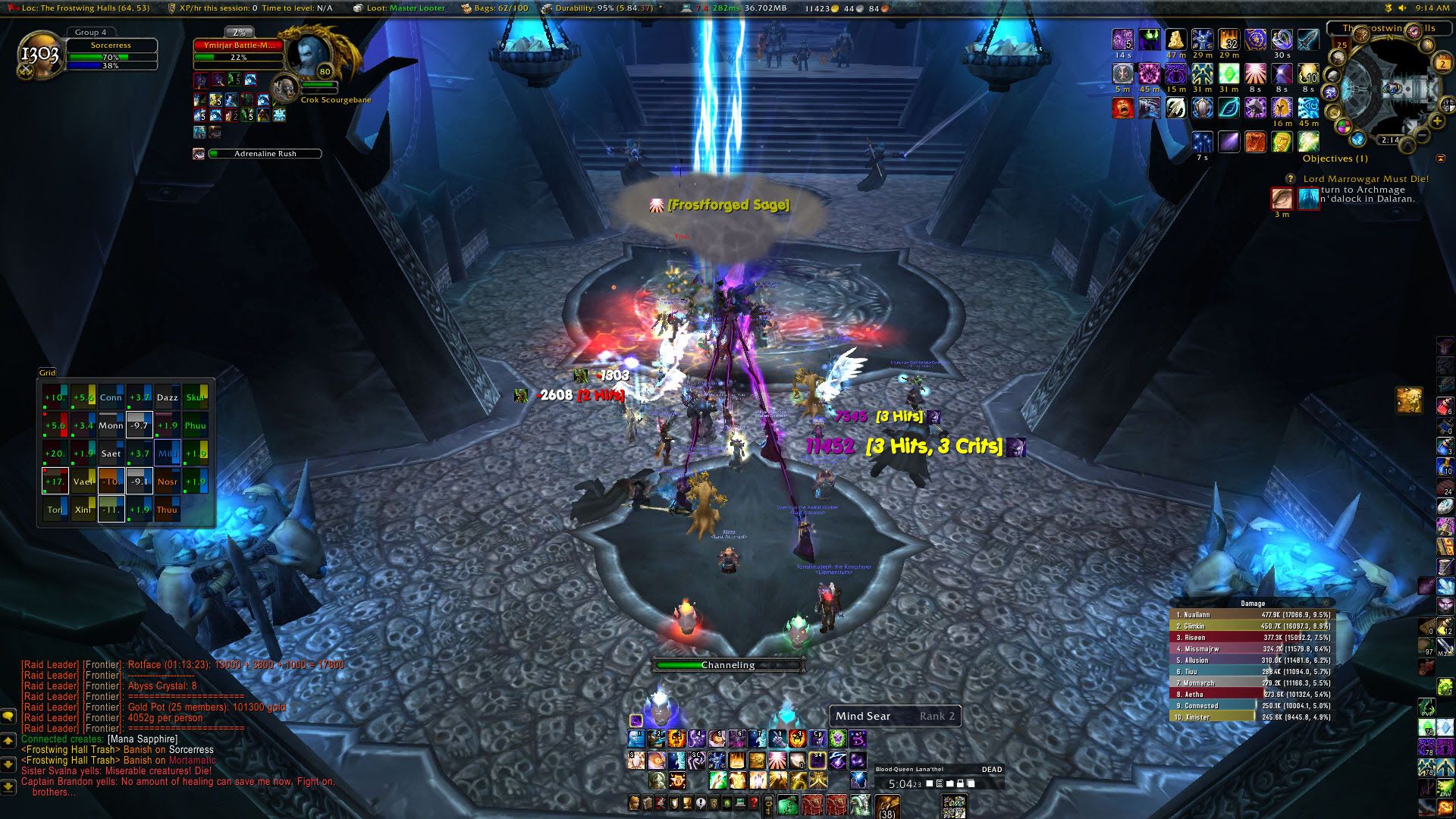 Sorcerress' keybindings aren't really showing in the pic, as they are secondary keys. Also her dps sucks in the pic cause i just got banished by a mob.
3.8 Post a link to what you feel is the best PVE spec for your character.
A:
http://www.wowarmory.com/character-tale ... =Presiding
Divine Sacrifice is too good not to get.
3.85a What major glyphs do you use and why?
A: Holy Light - splash aoe heals.
Wisdom - 5% less mana cost on all heals
Holy Shock - my current play style uses a lot of holy shock. I've tried the Beacon glyph, but I do a lot better with Holy Shock. I have no problem keeping beacon up with my mod timers.
3.85b What minor glyphs do you use and why?
A: see 3.8 armory talent link. All the minor glyphs are crap
3.9 DPS - Describe a typical rotation you would use to maximise your DPS
Healers - Tell us what sort of healing strategies you use to maximise your healing and efficiency
A: Sacred Shield the MT. Beacon the OT. Holy light the MT and keep holy shock on CD as an instant raid heal or to top up the tank quickly. If infusion procs instaly flash of light the raid or the MT who has sacred shield on for HOT.
for spriest: Keep VT + SWP + DP on boss at all times. Mind Blast on every CD and Mind flay as a filler.
4. PvP
If you're not a very serious PvPer feel free to skip this section
4.1 What are your achievements of note in PvP? (high rank / Arena rating / etc)
A: Never done arena in wotlk. I occasionally do BGs and have some random resilience gear from VOA i've kept - maybe 500 resilience or something.
5.Other Stuff
5.1 Do you have any achievements relavent to your application you'd wish us to note?
A: Legendary healing mace from Ulduar 25m. Have Algalon key. 10m Kingslayer. Precious' ribbon
5.2 Are you applying with any other guilds at the moment?
A: No, your start times suit me best.
5.2 What do you hope to get out of Southern Cross? Why do you think you would make a valuable member?
A: Drama free guild and fun raiding.